Here are my general practice reflections and ideas outside set projects (to be read after the individual assignments).
28th October 2020
I have just finished the first two days of the programme. I'm very excited to be on the course, sorry programme, but it's also very daunting as it's 35 years since I've done anything of this nature and it was very different back then. A lot of information and ideas have been delivered over the 2 days. I might need to up my methods of thinking, which might be hard considering my age!
29th October 2020
TUTORIAL
I have just had my first tutorial with Kerry, discussing my course. He earlier suggested it might be hard for me to do the course in one year and he suggested taking two years to cover it well. I was at first a bit worried about this but I am unable to do the course over two years due to an impending situation in 2022. After having spoken to Kerry and Dave, I am happy that I have the resources and the time to be able to complete the course in a year, to the best of my ability. My existing practical skills are hopefully my strength, it is the academic side that might be my Achilles Heel.
11th November 2020
I've just submitted my initial practical proposal. I didn't realise there were so many little connections I could dip into from my past. I had some crazy ideas and going through the process also brought unforgotten memories that could fit into my proposal of using my nostalgia for my childhood.
12th November 2020
Why am I here?
Well, in the great COVID lockdown of 2020, as I had nothing else to do, I started playing in my studio. I completed lots of little fun projects. Having the freedom to play without any commercial constraints was, quite frankly, very liberating. I decided to set myself some briefs; one project was to walk around my home town of Henley-on-Thames as I did when at sixth form college 40 years ago. I walked around town taking 'interesting' photographs in 40 minutes, as in the same manner all those years ago.
I shot on an Ilford 35 mm FP4 with my Nikon FM2 and a 50mm prime, then developed in ID11 and printed on Ilford Multigrade resin paper in my lockdown darkroom.
Link here: http://richardpinches.uk/40-40-40
I was playing as my WW2 alter ego, The Lone Rat, with animation and green screen videos: https://youtu.be/ZPIu9Rp0330
I thought it might fun to have my mini 'Lego me' lost in the desert. I made a little sand pit and started shooting and then an expanded story seemed to appear. After tens of thousands of stills frames, excruciatingly generated for this, I don't want to look at another stop frame animation for a very long time but I was very pleased with the end result: https://youtu.be/2yWqNna_OEo
The point is that I loved recreating something non-commercial. So I signed up to the MA photography course to help expand my creativity and explore other photographic avenues, hopefully in a non-digital and very analogue way.
Initial proposal
'Playing at war' – working title for initial proposal.
practice-project-proposal_-nov10thDownload
Look what I've found!
I love this portrait I took of Lord Hunt in 1988. I shot him at his home in Aston, just a mile away from my studio, as an editorial commission. He was the leader of the famous 1953 Everest summit expedition and he selected Edmund Hilary and Tenzig Norgay to summit. I found this image recently when going through my old scrap books. I have kept scrap books since I was at art college in 1983, right up to when I stopped shooting Polaroids and only shot digitally, around 2000. They have always been very useful to me, it's a shame I stopped. On the shoot it was just him and I, and this is actually the test 6×6 Polaroid to test the lighting and composition. Somewhere I have the black and white negs, but I suspect the other black and white frames are all him looking at the camera. I really like the pose in this image, it's more relaxed, casual and natural. It's referenced here as I have been looking at the photographic style of Julia Margaret Cameron. Cameron (JMC) took up the wet collodion photography when she was 40 years old. I am now a wet collodion practitioner myself and I was researching how she worked. She was a very early pioneer and now well regarded. I have inadvertently mimicked her style in this image; the subject looking away reminds me of her portraits of Sir John Herschel and Charles Darwin. My lighting is just daylight (like hers) and with the same offset direction and strong modelling that she used. The soft, muted, bromide-ish warm tones are a perfect look for the era and the image is a bit soft, in her style of not always focusing properly, although here my softness is the nature of the Polaroid and not my focusing, honestly! What I really love is that his body roughly resembles a mountain, his wild untamed hair, (again like a JMC portrait where she encouraged sitters to tussle their hair) near the the summit of his head, white and wispy and emulating photographs of the windblown snow from the high cornice just past the Hilary step on Everest itself, that we are now familiar with thanks to his team. The hair is even blowing in the right direction as seen from the usual viewpoint of Everest.
Julia Margaret Cameron was renowned for her portraits of famous Victorians as well as recreating biblical characters and scenes from the classics. She was not interested in the higher ideals of contemporary photographers, who criticised her lack of technical skills especially her focusing, but she was praised for her artistic style from others. She was a keen amateur playing at photography but in doing so produced some wonderful studies of her subjects. Her framing was considered as 'close up' photography as most portraits of the time included much more body. She was very talented at controlling her light, shaping it with calico sheets over windows, which while modelling the light effectively, also affected her, already long, exposure to several minutes, sometimes up to 10 minutes. No wonder no subject is seen smiling! All told, she was a groundbreaking photographer with a lasting legacy.
If I can reproduce images like Julia's (below) on wet collodion I would be very happy indeed.
Julia Margaret Cameron / Charles Darwin (British naturalist) (s.d.) At: https://www.britannica.com/biography/Charles-Darwin/images-videos (Accessed 14/11/2020).
Charles Hay Cameron | Cameron, Julia Margaret | V&A Search the Collections (2020) At: http://collections.vam.ac.uk/item/O1098316 (Accessed 14/11/2020).
Julia Margaret Cameron | Sir John Herschel (s.d.) At: https://www.metmuseum.org/art/collection/search/283097 (Accessed 13/11/2020).
As a quick aside, in looking at these images I did a screenshot to show just how many different versions of the same Charles Darwin portrait are represented on the internet. Maybe an idea for a montage?
Why have I chosen wet collodion?
Probably because I'm nuts! The process is not easy and it involves making a sensitised plate to expose and develop whilst it is still wet, hence the name. Depending on ambient temperature, that is roughly a shooting window of around 10 minutes per plate (it's only practical to do one plate at a time). It was developed by Frederick Scott Archer in 1851 and it became very popular as it was a cheap and accessible way of producing either tintypes, glass ambrotypes or glass negatives. The new idea of glass negatives opened up the world of multiple quality prints, unlike the poor quality paper negative of Talbot's calotype, and are undoubtedly superior to a certain unrepeatable French process on metal …'How do you like them apples Daguerre?'
P.S. The expression, 'How do you like them apples?', comes from the First World War when the British invented a new mortar that used toffee apple shaped bombs, sweet!
Wet collodion is a slow, very wet and very smelly process that is full of many variables that can affect the outcome. There are a lot of modern practitioners who produce some amazing artwork, and using some very inventive methods to produce images, from using van as a camera to a using whole room to create mega glass plates of 6'x4'. I can see the addiction to this process and possibly it could be equated to trying to master golf, which, although I've never played, I hear is something you can never quite achieve but at least have fun trying to get there.
Wet-collodion process | photography (s.d.) At: https://www.britannica.com/technology/wet-collodion-process [Accessed 13/11/2020]
Daguerreotype | photography | Britannica (s.d.) At: https://www.britannica.com/technology/daguerreotype [Accessed 28/11/2020]
Calotype | Definition, Process, & Facts (s.d.) At: https://www.britannica.com/technology/calotype [Accessed 28/11/2020]
13th November 2020
Tutorial
I've just had some feedback from my practical study lecturer. He suggested I be more expansive on my blogs when Im discussing my results. Basically explain why I like the successes and why I don't like the failures. I realise that I'm very used to providing high quality slick results and I was reminded to 'let go' more, to experiment and not worry about perfect results, it's the thought and experimentation that he is looking for.
Shane Balkowitch
14th November 2020
Shane is modern wet collodion practitioner whom I admire. I do love the strong chiaroscuro in these first self portraits (below) but I prefer his nostalgic photographs ('Zenfolio' below) and they're more relevant to me with my historic take on the process.
https://nostalgicglasswetplatestudio.zenfolio.com
Below is his shot of Greta Thunberg. I love that it still looks old and her necklaces look of native American Indian origin. I wonder if they were props added by Shane? In period photographs it's more common for sitters to look off-camera. In Shane's images where the subjects look at the camera, I am reminded this is a modern image, which personally, I don't like. His native American images work best for me, their head dress and costumes are stunning. I do not know of any re-enacting group that covers the genre but it would be great to photograph some using the wet collodion process.
Balkowitch, S. (2020) Zenfolio | Nostalgic Glass Wet Plate Studio (s.d.) At: https://nostalgicglasswetplatestudio.zenfolio.com (Accessed 13/11/2020).
16th November 2020
Today I was on Jocelyn Allen's photography talk, whose self portraits were fabulous; abstract, experimental, beautiful and superbly considered. I feel like I have a long way to go to be more artistic in my practice.
17th November 2020
I have bought a lot of Lego bricks to play for my 'war gaming' idea. I must keep my original 2 bricks marked somehow, it would be a shame to lose my childhood versions by mistake, especially as they only recently made themselves known to me again (bizarrely) by turning up in my studio, just as I was remembering how I played with them, as a child, when I was adding them to the practice proposal. Serendipity or what?
I was inspired by Adam Rushton's WIP today and his abstract use of simple bird spikes. He has produced a plethora of very interesting abstract images on one theme. I am considering 'toying' with multiple layered images and experimenting with other ways to 'mash-up' the image; scratching with sand and using gunpowder to blow stuff up, (yes I have some lying around, legally!). There is also a connection with the collodion I use which is mainly nitro-cellouse (guncotton) which was the replacement for black powder. I might experiment blowing film up with both!
Roger Fenton and the Crimean War
21st November 2020
I cover Roger Fenton's extensive coverage of the Crimean war in my research enquiry blog, but I will quickly reference it here as it relevant to my war images and wet collodion practice.
Fenton is considered to be the first war photographer after he covered the Crimean War in 1855 (Harding 2012). He produced images purporting to be a 'testimony to the rigours of war' for the compilation of a book, and prints, to be sold to the public at home in Victorian England. Fenton's Crimean coverage was very extensive and provided over 350 iconic images of scenes that had never been seen by the public before. I find it ironic that his photographs actually do very little to act as a 'testimony to the rigours of war'. Rather he captured largely static portraits of soldiers and officers, many mounted on standing horses. He documents the army life in camp, featuring grandiose and sedate uniformed soldiers in a Tableaux Vivant style, using artistic licence to stage small sets of static groups. This was, in part, necessitated by the photographic process limitations of 1855, which needed long exposures of several seconds even in direct sunlight, so action shots were far beyond his reach. He was also mandated not to show the real suffering and death that was endemic in the Crimea War. One of his most famous photographs (see below) is completely absent of people and still courts controversy. Sontag comments (p43 2002) "Fenton's image of the 'Valley of Death' (as coined by Tennyson in his famous poem) is portrait of absence, of death without the dead."
This is the very first faked war image. It has been proven (referenced in my research blog) that the main image with more cannonballs is the later image, naughty Mr Fenton!
I love his documentation of the army life in camp; it documents the soldiers and the various they wore. The shot below on the left is Fenton's, the right image is my grandfather taken at the turn of the century, somewhere in Dean Street, Marlow, where my mother was born to my grandmother, Florence, named after the famous Crimean Nurse, Florence Nightingale.
Harding.C (2012) Photographing conflict: Roger Fenton and the Crimean War (s.d.) At: https://blog.scienceandmediamuseum.org.uk/remembrance-day-part-1-photographing-war-fenton-crimean/ [Accessed 12/12/2020]
Sontag, S ( 2002 p. 48) Regarding The Pain of Others. Great Britain. Random House Penguin books
Gordon, S (2003) Shadows of war. (1856) London, Royal Collection Press.
Why am I fascinated by this?
As referenced in my initial proposal, my interest in the Crimean War goes back the early 1970s, watching my much older brother craft model soldiers of the era. I was fascinated by the uniforms in his modelling magazines. His Lord Cardigan, of the famous 11th Hussars (nicknamed the 'Cherry Pickers' due to their bright red trousers), on horseback was an adaptation of another model and I watched with fascination as he created the iconic cavalry officer. This interest spurred me on to recreate the battle maps I saw in his magazines, using my coloured Lego bricks to represent the various regiments involved, and later with actual toy soldiers. My childhood fascination with war and playing soldiers started there and continues to this day. Now I am also interested in the wet collodion process used by Fenton in the field. I find it hard enough to get a good plate in my studio (although a certain tutor prefers my 'skanky' discarded plates!). Fenton did it in a mobile darkroom in a horse drawn cart (which he said attracted the unwanted attention of the Russian Canons).
Moving swiftly on….
22nd November 2020
I had great fun this weekend 'playing' in my studio and makeshift darkroom producing Mr Willis' second project. After I'd finished I took a couple of wet collodion plates of my muse, the goddess known as Liz, and whilst I struggled to get a good likeness with the first few, the final image I absolutely love. It did benefit from a crop which also magnifies its wonderful blemishes (newly appreciated). This is more in the style of Julia Margaret Cameron, although I concede the tighter crop is too modern but I started framing in her style. This might be my favourite image I've ever taken on wet plate. The lighting and framing are perfect but the textures for me are the icing on the cake with Liz's eye as the cherry on top! I will be trying more of this style.
I love her pose and the detail in the eye and that she kept still despite a 20 second long exposure! The weight of shadow on the right only pushes the viewer's eye to the left and quickly towards the subject's eye. Below is a full image (complete with excess silver from bad pouring technique) and a less successful attempt.
However … I think the piece of Foamex I use under my wet collodion chemicals to protect my bench is also a small triumph, far more abstract art in a Pollock-esq fashion. I couldn't have chosen a better colour palette my self. Another accidental piece of art.
1st December 2020
WIP
Today was my first WIP, I think it went well. Some nice comments. Kerry said that "The photography can be driven by its own narrative" that I should "listen to the work, allow it to speak to me … Don't worry about the mark, don't worry about the client/audience. You (I) am the principal audience, if it doesn't please you (me), there's no point in even trying to please somebody else". Paraphrasing a little, he also said, "Don't worry about the outcomes necessarily, but the process can itself be the end result." It was mentioned again to follow the accidents and that some of my discarded images were referenced as possibly being more interesting, for example my buried guns in the sand were mentioned as an idea interesting enough to pursue. Ian liked my cropped wet collodion portrait of Liz, and discussed my investigating why I liked it so much (which I hope I have in the piece above). My quest to be abstract was questioned against my contrived work to date. Ian suggested maybe relaxing and not worrying about the contrivances in my photographs. This re-emphasises Kerry's suggestion to let the photographs have their own narrative. I will try my best to take this all onboard.
11th December 2020
Ian Ruhter is an American modern wet collodion artist working on huge plates, either from a converted van that doubles as camera and darkroom, or, as for one project, a converted room in a deserted house which he converted into a huge camera obscura to produce truly enormous glass plates of an incredible 6' x 4' (making him the world record holder for the largest wet collodion plate). He has taken a difficult process and made it ten times harder, idiot! But his images are magnificent and require a huge command of the process. I'm still struggling with 5″ x 4″ tin plates! He is an inspiration!
Ian Ruhter | Silver & Light (s.d.) At: https://www.ianruhter.com/ [Accessed 05/12/2020]
Now to Borat, sorry Borut.
Borut Peterlin doesn't come from Kazakhstan but Slovenia. He is an amazing fine art photographer who vlogs regularly and is a fantastic source of technique, and indeed I'm one of his Patreons (evidently paying for one pizza a month for him!). He learnt his technique principally from Mark Osterman, who is the world's wet collodion guru. Borut is a bit obsessed with photographing trees and nature over people, he also often includes his naked self in the frame. He's devised a funky remote device on his huge 11″ x 14″ camera to enable this. He travels into his local forest and camps with his dog; often the videos are without narration (at least in part) just stunning camera work and time-lapses which are so watchable due to his creative eye. He is very entertaining as well as educational. It was so sad when his old dog died, he buried him in the forest and he now returns occasionally with his new dog to say 'hi' and camp around the grave. Although his subject matter doesn't really interest me they are incredible images; his knowledge and content make him my main wet collodion hero.
Borut Peterlin Photography (s.d.) At: https://www.borutpeterlin.com/ [Accessed 12/11/2020]
The man responsible for the resurgence in wet collodion.
Mark Osterman is a modern practitioner who literally wrote the book on wet collodion techniques, which is now everybody's starting point to learn the process; I bought this in the summer as my 'go to' document for help. There are many variants and variables to the technique which can only be mastered with considerable practice and experimentation. I have a long way to go to be proficient but the wet collodion Facebook pages are a very useful resource for quick responses to technically queries. There is a split in the wet collodion community generally, between practitioners that chase perfect plates with zero artefacts or any issues whatsoever, to practitioners who embrace these imperfections as wonderful additions and a reminder of the technique itself. I find myself in the later category but not necessarily by choice, but I am learning to love the skanky outcomes.
Osterman, M. (2019) Mark Osterman. Alternative Historic Photography Workshops; Wet-Plate Collodion, salt & albumen prints (s.d.) At: http://www.collodion.org/ (Accessed 22/12/2020).
Fab New Discovery!
11th December 2020
I had a tutorial with Kerry yesterday (my second), which helped me 'focus' (pun intended) on my way forward with my practice, blending the Discourse and Reflection with my Research and Enquiry and all coming together to 'develop', (Kerry's word given with a smile!) my theme of staged war images. So this morning I was researching staged war images and I came across a truly fantastic photo comp 'Dead Troops Talk' (Wall, 1992). I really, really need to see this in the flesh and more from the same artist. He painstakingly recreates scenarios (often mimicking famous iconic images ) and exhibits Cibachrome transparencies on huge wall mounted light boxes. It was so exciting to see a modern war image deliberately faked for art. This opposite take on the war image truly fascinates me and I genuinely feel excited to hopefully find more in this vein.
This is a treatment I would like to try in a World War Two context. There is a lot of potential to parody war if COVID ever allows as to shoot people again (with a camera, not my Lee Enfield that is!).
Art is meant to be evocative and I think this image certainly delivers. I wonder what motivated Jeff to satirise such an image? It appears as a solitary comment on war in his collection of works.
'Dead Troops Talk' Jeff Wall 1992
My ongoing research and investigation has taught me to be more questioning in my approach, which was lacking in my earlier posts. So, I will choose this intriguing image to ask 'What, how, why and what's the point?'
What – on first glance it is a war photojournalist's view of the horrors of war. The image is very well constructed with heavy attention to detail and realism, except the soldiers poses. Here the illusion is clearly broken as the poses are comedic; we are forced to evaluate the photograph as a work of fictitious art rather than a grim depiction of war.
How – Wall is taking the grim images of mortally wounded soldiers and positioning them as comedy characters in surreal fashion but using high quality wardrobe and make up teams to enforce the realism.
Why – Wall is supposedly making a mockery of war using very large tableaux images in the fashion of a Renaissance painting, or maybe he is making a comment on war photography itself? The two are surely inseparably intertwined in the eyes of the average viewer.
The point being … The viewer can breathe a sigh of relief on the realisation that the subjects were in no pain and can then take joy in the skill of the artist and his team. They can then further consider what motivated the artist to produce such a grim image. Those who are familiar with Jeff Wall's work will know the subject matter is a tangent to his main body of work, maybe the viewer will be reminded that such awful injuries are commonplace in war zones, making this image more truthful than the fakery of Len Chetwyn's WW2 images in the North African desert. Chetwyn is referenced in my 'Montage' project and more extensively in 'Research and Enquiry' ('The War Illustrated', 1942).
Jeff Wall: room guide, room 8 | Tate (s.d.) At: https://www.tate.org.uk/whats-on/tate-modern/exhibition/jeff-wall/jeff-wall-room-guide/jeff-wall-room-guide-room-8 (Accessed 11/12/2020).
The War Illustrated A.F.P.U. Sgt. Len Chetwyn 27th November 1942 (s.d.) At: https://www.slightly-out-of-focus.com/product-page/the-war-illustrated-a-f-p-u-27th-november-1942 (Accessed 19/12/2020).
Possible new idea
12th December 2020
I found this image on Facebook of a American boy playing with toy soldiers. At first glance it looks like typical child's play, until you read that this boy is recreating his late grandfather's landing on Utah beach on D Day 6th June 1944, with his toy soldiers, actually on Utah Beach. I find this so moving I'm actually welling up writing this. I should never forget my connections with my father and all veterans of this conflict, some recently I've had the privilege to interview and film. I see on the WW2 veterans' group Facebook pages a death of a veteran almost every other day now. This idea could be another expansion of my toy soldier theme, already touched on in the montage project. It's just a shame my offspring are all 'growed' up. Need to steal some young 'uns! LOL. This could be a very powerful idea.
Normandy Veterans Family and Friends | Facebook (s.d.) At: https://www.facebook.com/groups/504779572908718 [Accessed 12/12/2020]
Consolidating blog issues.
16th December 2020
Today I'm tidying my blogs after some confusion as to what content to include in the main in blogs we've been asked to produce. I'm consolidating all my reflective 'Practice One' thoughts here in a chronological thread, diary style.
On-going soil research
I still have found no reference for this technique but I am optimistic and excited by this explorative avenue. I've been busy reading and blogging but I must start testing the film-in-soil idea soon as I have no idea of how long they need to be buried for. I believe the soil microbes will eat into the tasty gelatin and hopefully the soil chemicals will further distress the emulsion. I've bought loads (15 I think) of rolls of 35 mm colour neg film from Ebay, but I will need to pre-expose the films with some images of war to see the results, hopefully, of the interference and distress by the soil. I will expose two films side by side so I can test one roll in a tub of normal (damp) soil and another in a tub of very wet soil. I might try 6 weeks for the first test but I have an inkling it may need a lot longer. I will keep the 2 tubs indoors to maintain warmer temperatures and hopefully quicker results. I have the processing chemicals but I think I need to buy the CineGear temperature control unit after listening to Victoria's WIP, where she had temperature issues trying to process without one. Processing issues are a moot point until I start digging and burying!
UPDATE: This is a big practical and it now has its own dedicated post on this main WordPress site.
Image paradox and a truly 'smoking' idea.
18th December 2020
I've just had a waking thought based on Magritte's 'Ceci n'est pas un pipe' (Magritte, 1929). A great image with a powerful message that has stuck with me since school art classes. My thought is to take a Polariod of a pipe and write on the tab at the bottom 'This is a Polaroid' and photograph it for the blog. See what I did there! The Polaroid will actually be a Polaroid, but my photograph of it will only be an image! The pipe is there to cross reference Magritte's original 'Treachery of Images' painting. Watch this space for the execution. *Cue applause …
Magritte, R. The Treachery of Images, 1929 by Rene Magritte (s.d.) At: https://www.renemagritte.org/the-treachery-of-images.jsp (Accessed 07/01/2021).
25th December 2020
After my impersonation of the grinch, for the 12 days of Christmas project, I had some fun playing with the misty windows left after cooking (admittedly, after I saw Liz taking them!).
The green and magenta was supplied by the new Arri LED 'all signing all dancing' spotlight.
The condensation affords a visual abstraction from the bare reality, muting the image in a similar fashion to Turner paintings. The condensation has mimics the visual form of the trees outside. If I were looking for a way to abstract my images, it might be worth experimenting with similar misted glass.
PS I'm really impressed with LED light.
26th December 2020
SUCCESS! Today I did something new; I developed a roll of C41 film and it came out just fine. Once I mixed up the chemicals it wasn't as hard as I thought and actually seems much more tolerant than black and white developing.
I used my new Cine-gear temp control unit in the water bath, but it didn't seem to maintain an accurate temp in the bottles (the temperature dropped slightly). I may have made a mistake by using glass stock bottles and not plastic ones which, being thinner than glass, might have worked better. I used the lower temp of 30 degrees and a dev time of 8 minutes; there is a 38 degree option which gives only a 3 min 15 second dev time, but for me that is far too quick. UPDATE: the temp control unit works fine; it must have been my error previously. Setting the unit to 32 degrees keep the bottle contents at 30 degrees. Technical note on 120 C41 Kodak Porta: there in no rear leader to load in daylight (tight Kodak sods) the spool MUST be loaded in the dark, unlike my 35mm technique where there is lot of spare film, which works fine without losing any frames to fogging.
A quick 35mm test roll. This might have been a starting point for the 12 days but I'm much happier with the Cindy Sherman themed, 120 film charade outcome, featured on the dedicated page for that project.12days0344-1Download
29th December 2020
This is my test 120 colour neg frame for our Christmas project; digitally copied and inverted in Capture One without correcting the colour bias. The result is my charades pic looks very old; it was taken on a 1945 Rollieflex camera but it is out of focus, which here I think helps gives it a nostalgic look and, together with tonal qualities, sells the retro feel. I have an idea to take this further, and to tie in with the nostalgic thread I have for my childhood memories, which is to take the cheap plastic lens of a 1970s Kodak Instamactic (just like my mother's, but not that actual one which is very precious to me) and use it to create nostalgic looking images. I may even try some good 'ol 'lens whacking' to add flare and fogging to further 'retrofy' the images, as well as forgetting to correct for the lens parallax as per my old photos below.
My dear old mother's Instamactic camera.
30th December 2020
Just browsing through old photographers on my phone 'as you do', I found some uber cool black and white classic images from two of my favourites. I am leaving them here for reference as I'd really like to try to emulate these. Strand's abstract minimalist shadow, then more shadows in the Wall Street image, somewhat resembling the iconic 1920s film, 'Metropolis' (which must have been on my mind as I watched it recently). Then to the lovely, muted, reflective portrait of Rodin by Steichen; masterful use of space and light.
Wall Street, New York (+ 2 works; 3 works) by Paul Strand on artnet Auctions (s.d.) At: https://www.artnet.com/auctions/artists/paul-strand/wall-street-new-york-2-works-3-works (Accessed 22/01/2021).
Paul Strand 1890–1976: milestone in photography | NGV (s.d.) At: https://www.ngv.vic.gov.au/essay/paul-strand-1890-1976-milestone-in-photography/ (Accessed 22/01/2021).
Edward J. Steichen | Rodin | The Metropolitan Museum of Art (s.d.) At: https://www.metmuseum.org/art/collection/search/267814 (Accessed 22/01/2021).
2nd January 2021
Ive just watched the video with Edward Weston's grandson discussing his grandfather's work. Interestingly the famous pepper 'No. 30' shot was actually a 4 – 6 hour long exposure, according to the grandson. Westons 8 x 10 camera only had a max aperture of f64 and he could not get the depth of field to cover the whole subject, so he made a makeshift aperture in a pinhole style of roughly f240 (a number quoted by the grandson but I suspect it's a bit arbitrary as it should be f256 in a proper aperture sequence). This tiny aperture evidently required an astonishingly long exposure of 4 – 6 hours. Weston wrote on the back of a pepper print he gave to a friend, "As you like it ‒ but this is just a pepper ‒ nothing else ‒ to the impure all things ‒ are impure." A fabulous image that does manage to make a pepper look sexy, although I'm not sure I'd have bothered with the f240/f256 malarkey. 'Joan Collins' all the way, AKA Wide Open. LOL.
https://edward-weston.com/ [Accessed 3/01/2021]
4th January 2021
My Polaroid camera arrived today; a fabulous old model refurbed. More retro looking images will hopefully come from this. So here is my version of Magritte's 'Treachery of Images' as reference in the earlier post when I had the inspiration for it! I love the outcome and its simplicity.
The Treachery of Images, 1929 by Rene Magritte (s.d.) At: https://www.renemagritte.org/the-treachery-of-images.jsp [Accessed 07/01/2021]
4th January 2021
I've been busy … I had another go at wet collodion glass plates to test why my emulsion is so slow. I used a static desert fox as my subject and then tested different collodion and developers with a scientific approach. The collodion has a shelf life of only a few months; I tried to re-invigorate my oldest stock with the suggested 1:1 Ether/Isopropyl Alcohol mix, but it made it worse (more research needed)! Still my latest stock and 20 second development worked well enough, but I still have a 35 second exposure. This should be 5-15 secs.
I was happy with the results. Below is my first ever ambrotype, a positive on glass plate (so it looks negative without the black background). Technically a terrible image due the crepe lines and other artefacts, but I know a certain person who will love these, as do I now.
This was actually shot it to be a negative but it looked so thin I nearly discarded it while it was still wet! Good job I didn't. The silver image does dry slightly denser (highlights) and the thin image I now know works well on black velvet in the style of an ambrotype. However, I still need to find a way to get a denser image for a printable negative, which is my ultimate goal. Extended exposure times and dev time don't work so it must be down to the thickness of the Collodion itself. More reading needed.
Not only have I progressed with glass plates but I've also had a go on my refurbished half plate camera for the first time. Unfortunately, the dark slides I have are just a little too big for the camera … so I was forced to hold it up to the camera back and, with the other hand, try to seal the gaps with black bolton and count to 30. Amazingly this worked, but I will need to trim the dark slides for future use.
Here are the half plates (5″ x 7″) next the quarter plates (5″ x 4″).
Top right, the ambrotype is over exposed and bottom right ambrotype is blurred where the dark slide slipped during exposure. I'm learning to diagnose my issues with a combination of referring to Osterman's bible or, failing that, finding my answer on the 'Collodion Bastards: Wetplate Work of Questionable Parentage' Facebook page; fun people and very quick to offer advice.
https://www.facebook.com/groups/collodionbastards
Below is first decent half plate tintype but my favourite is still the top ambrotype above with the lovely crepe lines and artefacts!
POSSIBLE IDEA
7th January 2021
I've just seen this wet collodion double exposure on the WC Facebook group. Very interesting and possibly problematic to shoot 2 shots within the 'wet' time. I am guessing he had 2 separate set-ups ready; something I could do if I can get a faster emulsion (currently somewhere sub 0.5 ISO). I'd need several flashes on full tilt and there would bound to be some subject movement between the flashes. Maybe some blur like Julia Margaret Cameron would be acceptable.
Millar, J. (2021) (9) Facebook (s.d.) At: https://www.facebook.com/photo?fbid=10159442469367642&set=gm.1848296911992548 [Accessed 7/01/2021]
9th January 2021
I've just listened to my WIP again. I'm glad I did; it jogged my mind back into thinking about the abstract. These are 2 images discussed in the WIP as having potential for exploration. I find it hard to believe I discounted this photogram at first; it actually follows my research into Barthes 'Camera Lucida' where he discusses images that work on more than a primary glance, together with the Modernist viewpoint that the image has value over and above the object photographed.
I had an idea of a minimalist abstraction of my toy soldier motif. This was sparked from a Youtube lecture I watched yesterday on minimalism and the above mentioned WIP, but also partly inspired by a visual quiz circulating during lockdown this summer, where cartoon characters were treated in a similar way. This is a digital extrapolation in Photoshop, but I have an idea to bring in back into the analogue world by printing on the wrong side of inkjet photo paper and smudging. UPDATE: Thinking further, this isn't a very photographic device, maybe I could swop out the colour blocks for photographed textures of the various materials? It could be worth investigating getting bespoke Lego blocks made in the various colours, then I could really play around with them.
Another idea on the uniformity of an army, with an added non-conformist. I'm still playing with this motif to see if it goes anywhere but I'm thinking it might be a dead end.
I had forgotten my earlier desert motif 'Blood and Sand', from the name of the WW2 desert medal. I can imagine thick blood running into sand, oh and I just had an extra thought … barbed wire … very iconic due to the desert conflict and it beautifully ties in with my father's farming heritage. This really excites my mind with the possibilities … quite literally, I'm getting a dopamine hit! Cool.
Ordering movie blood today, I have the everything else …
I must remember to try blowing stuff up! Quicker results than the soil idea, I might try 120 neg pre-exposed and developed. I can imagine some nice burn holes (long det-cord would help with safety but I might only need a few grains of black powder). Also the collodion I use is actually gun cotton (nitro cellulose) and is also an explosive (Chemistry World 2015).
Freemantle, M. (2015). (s.d.) Guncotton or nitrocellulose. At: https://www.chemistryworld.com/podcasts/guncotton-or-nitrocellulose/9107.article [Accessed 18/11/2020}
9th January 2021
Frosty walk with my Rollieflex 12, on FP4 rated 200 ISO Ilfasol developer 6.5mins. No metering just guessing! I'm very pleased with only a few frames poorly exposed. I loved using the 6 x 6 on the Christmas project so I chose it again for this walk; it's a perfect frame for woodland. I had fun framing in camera, using my 12 frames carefully and sparingly; the trees are great subjects although it's not easy with the heavy fall off on the glass screen without a little fressie to help (like on my 5×4 rear screen). My favourites are frames marked 4, 12, 13/14, 16/17. My processing has improved immensely from a year ago. The one shot developer certainly helps over re-using ever weakening ID11/D76 stock. These are digital copies from the negs but I look forward to printing these and maybe on good 'ol Bromide paper. I strangely like the contact sheet just in neg form, I think because it is a strong reminder it is real film and its nostalgia; it must be nearly 30 years since I used 6 x 6 on my old Bronica SQA. I upgraded to the more commercially apt aspect of 6 x 7 with an RZ system. I may invest in an old 500 cm to use over the Rollei, which I'll still use for re-enacting purposes, it being a contemporary WW2 camera. The Hassleblad would be more user-friendly, and allow multiple film backs plus, of course, a choice of lenses! I can't wait.12days0345-1Download
14th January 2021
I am still drawn to Jeff Wall's 'Dead Troops Talk' large Tableau Vivant (or maybe that should be Tableau Mort!) especially as I've just read he sold it for 3.6 million dollars (Canadian) 9 years ago! Seriously though, I've just watched an interview with him discussing his work and his studio/darkroom set up in Vancouver. It was interesting to listen to him but I was hoping for a bit more detail to be honest. He describes 2 large set pieces he shot in this studio simultaneously; one I've just realised I have seen one before, 'The Invisible Man', (not in the flesh sadly). Nothing to do with my main themes but this is such an incredible image! I can only begin to imagine how difficult this was to rig. I'm envious of his studio/darkroom set up, he has a lot of space that he owns! I should be in the same position, d'uh! Anyway it would be great to find a video of him actually working, and to see how big his team is and just how much work the assistants do. Tangent warning!: I once had to art direct a car shoot with a broken leg. I was immobile, poor Rob and Gav did all the work that day, which just happened to be when Kate Middleton was shown around the studio as a potential client, and evidently I didn't even look at her when I said hello! It was either the painkillers or my engrossment in the shoot that made me blank her (she later said it was refreshing to be treated normally, long after I realised who she was after several shoots together, another d'uh).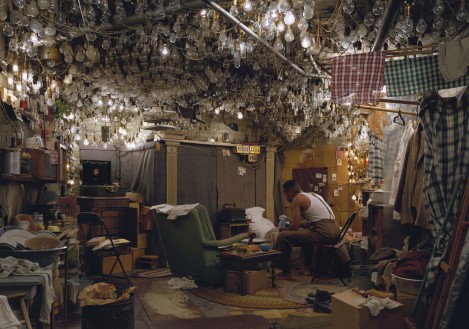 cube, W. (s.d.) White Cube – Channel. At: https://whitecube.com/channel/channel/jeff_wall_in_the_studio_part_i [Accessed 14/01/2021]
16th January 2021
I had a play with my Bren gun and some macro work, trying to explore abstract themes. Not terribly fruitful but I love the 2 dents that have been made over the last 80 years where the cocking lever hits the main body!
Below I like the round shape of the trigger guard echoing the round drum sight, nicely bisected by the very delineated, man made, engineered straight line. Plus the blood echoes the colour and organic nature of the wooded grip.
These are 2 of my favourite close-ups; the real winner being the 2 dents from the cocking handle.
The below pic show where it came from. I love the history of this, the dents strangely have a geological feel.
I tried more sand-burying as it was well received in my WIP, but without the wet collodion effect from the earlier project it's lacking that extra layer of interest. I do like my genuine El Alamein bottle top and the premise of the solider stuck, struggling in the sand. I have a small amount of actual El Alamein sand, but only enough for a close up shot like the bottle top. I may use it later or try to get some more. I had a quick play with my Lego bricks that are meant to be part of my practice. Not sure they have enough impact as straight shots.
screenshot-2021-01-23-at-09.24.09-1Download
17th January 2021
Another weekend walk with 12 frames on the Rollei. I'm really enjoying taking just 12 frames on a roll and carefully considering what and how I shoot. Not as stunning as the frosty images but good practice.
My favourite so far, it has barbed wire (not a proper scan)! I will try to print some of these when my bromide paper arrives.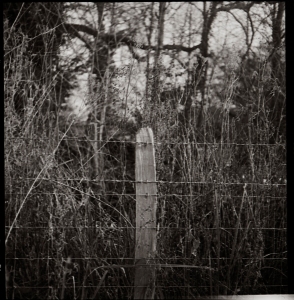 I also took a couple of Polaroids. Nothing very exciting; the cold may have effected to the saturation of the colours but I do like the green and magenta complimentary colours working together in the one of Liz.
18th January 2021
Oh I had such fun today! I didn't buy the fake movie blood! I made it, from glycerine, food colouring and a little milk to add some opacity. I love the interaction with the sand grains. I hope it's not too grisly, but I can't help think about the real blood spilled; huge strength in that connection. I've ordered a better macro lens. This lens has a small sweet spot in the middle, which results in too much focus fall off at the edges. The sand colour really varies in these pics; I have a blue influence from a soft light which is knocking the sand colour back, a little colour tweaking might be necessary.
BIG SAND!
This is the ordinary sand pictured above, but closer! An even bigger enlargement than I made last year. I'm truly amazed at the variety and range of colours and shapes, there must be some mileage in this macro theme.
I forgot to shoot the barbed wire, but I shot it shortly afterwards and I'm really glad I did, it looks awesome, I love it! It has a lot of potential to shoot in many varied ways, maybe even on wet plate. I might try shooting down on a large stack of straight sections on a light box, nearly obliterating the light, to see how the light filters through the wire. The ageing is so beautiful. It might work buried in sand like my fictive portrait gun image. I may have found the equivalent of Adam's 'Bird Spikes', at last … I may call them 'Father's Barbs' or 'Ginger Spikes' or 'Barbs in the sand'. Who knows what I'll end up with title wise but I'm really excited (Acme Barbs? Beep beep).
I have an idea to arrange the barbed wire in a grid, like a map as per my scribble below, and then photograph with the sand largely covering the wire but not completely. This is starting to merge with the Jasper Johns' 'Stars and Stripes' collection of paintings. UPDATE: I've remembered about the 'Quality Of Line' that I used in the buried guns in sand. The partially hidden guns made a much stronger image and I did regret not hiding more. So, with that ethos, I will bury the barbed wire as per my second sketch.
Rothko, M. Pink over Red 1968
I have always been fascinated by Mark Rothko's flat colour field abstract work. I think this example, 'Pink over Red' follows a similar minimalist approach to my 'Blood and Sand' images. I would still like to try a way to further abstract my photographs. Jasper Johns is another artist in the same minimalist style. I like how he has taken a famous icon, the Stars and Stripes flag and produced a series of abstract images around it. Above are just two examples. I maybe could try series of images using just one theme.
Pink Over Red – circa 1968 by MarkRothko (s.d.) At: http://www.artnet.com/artists/mark-rothko/pink-over-red-circa-1968-1qj6hqwuTviZ6XDB1eAJcA2 [Accessed 24/01/2021]
The True Meaning Behind Jasper Johns' Flag Painting (s.d.) At: https://artupia.com/blog/why-memorial-day-is-an-ode-to-jasper-johns-flag [Accessed 24/01/2021]
20th January 2021
I've just had a 'Discourse and Reflection' lecture from Kerry where he introduced me to 'land art' and especially Micheal Heidegger's 'Double Negative' which fascinated me. It's a massive long and deep trench in the middle of nowhere. It would be great to have such an artwork in the Egyptian desert to commemorate the soldiers who fought and died there in the Second World War. There is only the El Alamein cemetery, looked after by the War Graves Commission; no other allied memorial exists sadly. I have some contacts in Cairo who could at least start this investigation for me if I wished. The problem is that the Egyptian authorities really don't understand or care for their recent history of the Second World War. For them, history is thousands of years ago, not 80. I know it's far from my photographic discipline but this might be a fab longterm project and I have some connections to assist. I will drop an email to my Egyptian contact. My next scheduled visit is 2022.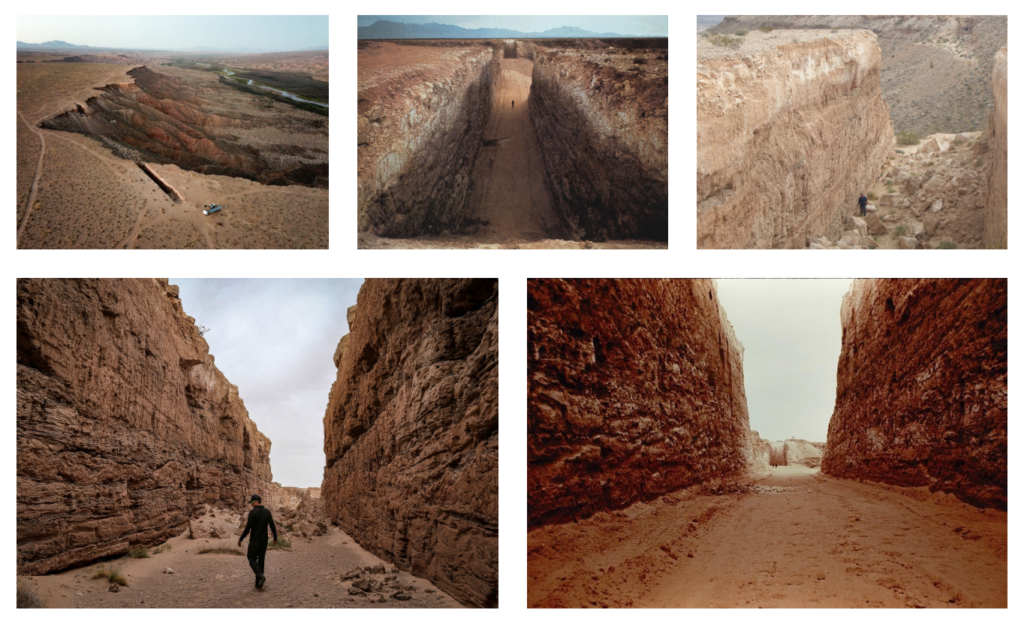 https://landscapetheory1.wordpress.com/tag/michael-heizer/ [accessed 14/01/21]
27th January 2021
I am reading a great book by The National Portrait Gallery on Julia Margaret Cameron. It's a large size and a comprehensive book detailing her life and works. I was significantly moved to add an entry here on reading a comment in a letter by Emma Darwin, (wife to Charles), where she describes what Julia Margaret Cameron does to subjects as being 'phoed'. How quaint a reduction of the term is that, especially considering Julia's theatrical style of mimicking characters from fables and history. Misrepresenting the sitter could also be a 'faux' photograph, hence a possible double meaning. I may rejuvenate this non-verb 'pho' when I next have a suitable sitter myself.
Ford, C. (2000, p.66) Julia Margaret Cameron, Britain, The National Portrait Gallery.
29th January 2021
I am reading 'Understanding photography' by John Berger and I feel obliged to mention some stand-out phrases that I vehemently disagree with.
"It is about a photographer only having a choice of when he takes the picture not the freedom painters or film makers have." (Berger, 2013, p10). Here he is talking about the limitation of a photograph only being able to catch a frozen moment. He goes on further to say, "The camera does not lie even when it is used to quote a lie. Also, this makes the lie appear more truthful" (Berger, 2013, p69). Berger also states that "the absurd studio works where the photographer arranges every detail of his subject before he takes the photograph" (Berger, 2013, p19). How ridiculous both these quote are! The camera lies, it can do nothing else (but it can capture a truth, that is something different). The camera cannot capture our reality, which exists in 4 dimensions not the frozen mono view of a camera. The camera, used correctly, can capture time, both literally and metaphorically, long exposures, time-lapse, multi exposures, montages etc, plus, and it's a big plus, the photograph may have taken a lot of preparation. I am thinking of photographers that spend time with their subjects, from several minutes to several days, in order to achieve the required, natural, honest photograph of their subject, like Paul Strand, August Sander and especially Diane Arbus. The photograph is the end result of the process working up to the final image. Then we have Jeff Wall's 'Dead troops Talk', the fabulous montage that took 6 years to finish and surely most come under Berger's derision of "the absurd studio works where the photographer arranges every detail of his subject before he takes the photograph". Berger wouldn't know a photographic work of art if it fell on him.
Berger, J (2013) Understanding a Photograph, Dyer.G. (eds) Great Britain, Penguin books.
29th January 2021
Here is my last image from 'Practice One' and it's one I'm really chuffed with. I've redacted war to a simple single metaphor, and one that is especially prolific in the desert campaign. It is simple, beautiful and a perfect mix of my war theme with my new found love of the wet collodion imperfections. I'm transfixed by the shape of the barbs; I do love them! I chose a 'barb' that I could rotate to show all the four barbs clearly, and lit it with a strong light to accentuate the aged artefacts on the wire. The subtle contrasting warm and cool colours, from the bromide and iodide content respectively, give it a little nudge away from the simple monochromatic image. I hope it reflects my progress over the semester. I certainly feel I have made considerably progress. I will be exploring more on this style next semester but I wanted the last image to be a strong representation of where my practice is now.
Final word/ Reflective commentsrpinchespractice1_reflectiveDownload
Phew … nearly done … I've definitely learnt a lot and I am enjoying rediscovering old favourites of mine in the photographic and art world. It was all a bit scary at first, but I really got into to the flow of reading and exploring. I did have an issue with finding my way around Studynet at first but I'm now, after a few months, much happier. I'm reading an awful lot more books than usual, but I find them generally quite engrossing, especially the art theory books. Some of the Philosophy books are much harder to digest, but generally I can pick up enough from them to make it worth while. However … John Berger's books tend to be a lot of waffley drivel, admittedly they are very old but some of his thinking on photography is simply wrong. Sontag has a better insight in the 2 classic books of hers I've read. I get a lot from all the lectures, but possibly I enjoy Daniel Marques Sampaio's lectures the most, as he is referencing photography directly. It also a nice small zoom group and he encourages commenting and interacting which I enjoy. I think my background gives me a small advantage over the artists in this group, where in Kerry's they have superior knowledge and insight. I must admit when I started the course, I was thinking I could get away with bare minimum of 30 hours a week. However, and it is a big however, I seem to have been completely taken over by the course, in a really good way, and I find it very addictive, it's that dopamine hit again.
I enjoyed presenting at the photographic tutorials, which is slightly out of my normal comfort zone, but I was always proud of my results which made it easier. I do love the connection with my father and the other veterans I'm currently exploring, there is great strength in that. My childhood connections are possibly more frivolous but I am enjoying reliving my own past with my toy soldiers. If I was making art for myself, as suggested by Kerry in my WIP, I couldn't have chosen anything else to shoot. I have enjoyed finding new avenues, especially the 'Blood and Sand' motif and the very new idea of barbed wire. I probably need to research more practitioners. Jeff Wall's work is truly superb, but most of his work is large scale and I'm not sure that fits well with my current ideas. I'm currently using abstract minimalist references like painters such as Jasper Johns and Mark Rothko. Perhaps I'm breaking new ground photographically?! Not sure I want to see similar photographic work even if there was any, but I'm happy to look at other artists, across all modern genres for inspiration. Adam Rushton's latest WIP this week demonstrated that he has pushed his bird spike theme even further. He's mixing photography, painting, photoshop, output to hard copy and then more layers of painting and back into digital. He says it's a hypnotic and fluid process that he gets completely lost in, amazing and what a joy that must be. I can imagine Jackson Pollock having a similar experince maybe? I do remember having fun painting large canvas backgrounds on my studio floor in a Pollock-esq style, that felt good too. Adam has started to montage a series of images in strips and in contact sheet form which is another possibility for me. I very happy to consider every style I encounter for inspiration.
It was a shame not to get involved directly with other students on campus, but I'm lucky that I have good resources at home for the practical work and I don't think my work has suffered this term, sorry … semester, d'uh!
Moving forward
I want to pursue abstract and minimalism themes touched on at the end of this blog. This does excite me and I wouldn't have thought of that treatment without the research process. I now have a decent grasp on the wet collodion process, but as much as I love it, I think I might drop the portrait style for the practical going forward into Semester B. If I were to continue with one of my original ideas of shooting re-enactors, I might need a mobile darkroom option to photograph re-enactors at shows, which is a significant technical challenge, also there may not be any re-enactors to photograph until late season because of damn COVID. I would still love to do Native Americans re-enactors in wet collodion, that would be awesome, but maybe a longer term project. I was briefly considering a tableau vivant similar to Jeff Wall's 'Dead Troops Talk' but again, the uncertainty over being able to use real people, and the complicated nature, might make this 'A Bridge Too Far' photographically speaking. However … I'm very happy playing in my studio with various other themes. I think the Lego motif is a dead end, but I still may experiment with the tangent of the toy soldier although I'm also not convinced this will go very far. Next semester will see much deeper investigation into abstract ideas of guns, blood and sand, especially the new found barbed wire theme which has a lot of potential both visually, metaphorically and it being my father's wire, (I might have even helped him put it up in the past). I would like to add an analogue twist somehow and this may be with the distressed film in soil or even blowing up negs or prints with gunpowder or guncotton (collodion). I'm still hoping to use an analogue solution where possible, which leads to my latest idea of 'Wet Collodion'ed Barbed Wire', especially done badly for the lovely artefacts, and maybe I need to find a way of producing even more artefacts! I have not used my other rusty war relics, collected from the El Alamein battlefield, I've only used my bottle top so far. Rusty metal objects photographed on shiny metal plates could look amazing. I might try enlarging photos (digi and real negatives) onto wet plate in the darkroom, that could be very interesting. I could mix some real barbed wire photogram style too. I am glad I revisited the macro sand from my second project; I will photograph my real sand from El Alamein for comparison soon. The buried items in sand still interests me and leading from that idea I may consider a part war installation for my final show by adding some desert/war props and maybe a highly restricted view through a tank periscope for one image? Oh, and then there is the idea of a large camera obscura in my studio to provide a full length image on photosensitised background paper!
I don't seem to be short of inspiration or ideas for the next leg, bring it on I say!
TTFN
and relax…. resources needed for next semester.
I am lucky to have my own studio and darkroom. However, I would like to experiment with the old printing techniques such as salt and cyanotype printing, for which I will need the University's UV bed, relevant chemicals and hopefully some instruction.